We are Marc and Avery Claire Wrigglesworth. Two young farmers with a passion for raising ethical, premium quality sustainable beef. 
Three years ago, we left our jobs in international finance, to start the next chapter of lives as the owners and operators of Lily Hill Farm in order to prevent the sale of the 3rd generation family farm. Learning as we grow, making some mistakes along the way but always staying true to our vision - raising quality beef with care.
Our cattle are raised on our Georgia pastures and under our all-natural program they are raised without additional growth hormones, antibiotics or animal by-products.
We want you to have confidence that your beef was raised right and believe in giving you the option to choose where and how your beef was raised.
Raised with care, finished with care because we care.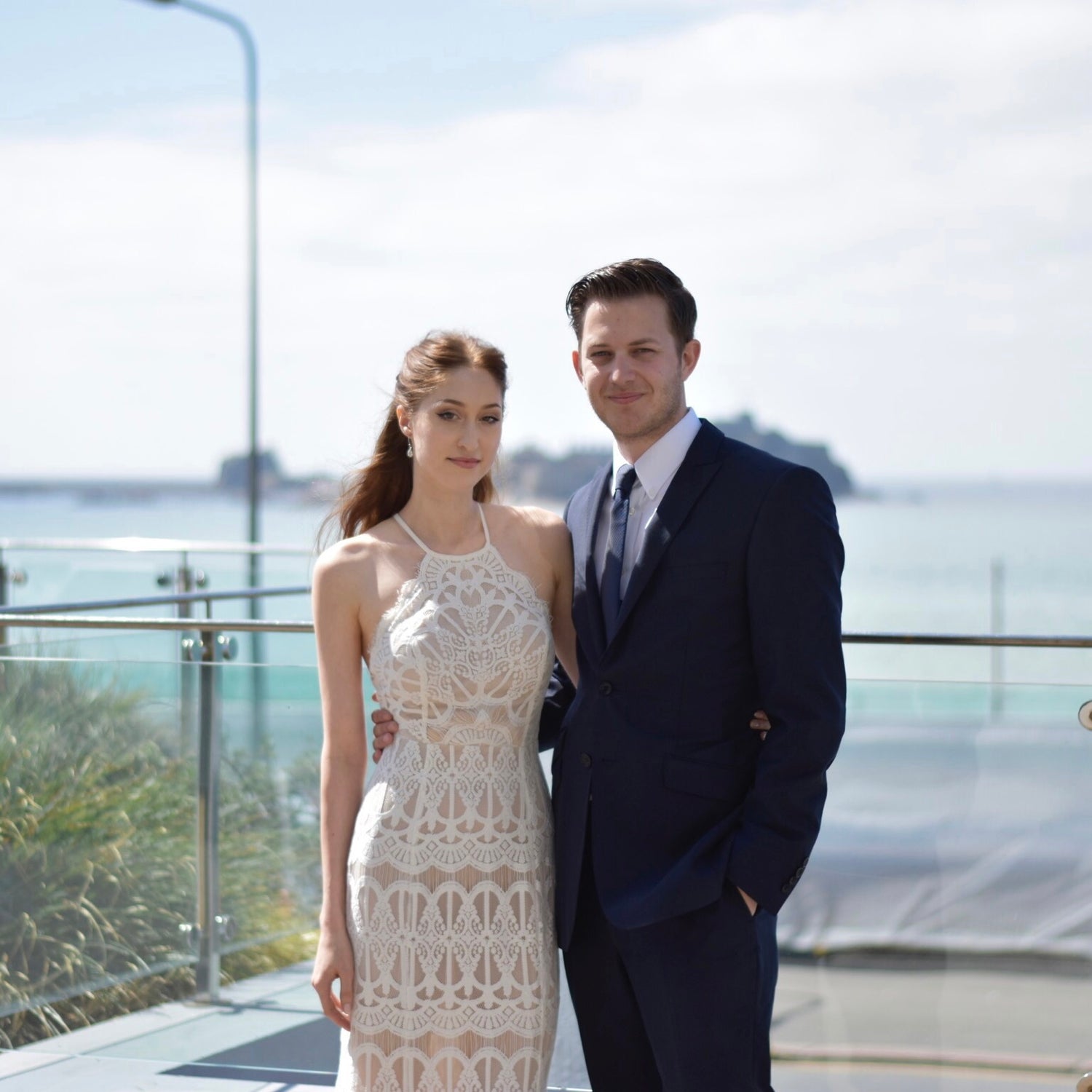 Our Background
A LaGrange, Georgia native, Avery Claire attended the University of Alabama majoring in Dance with a Minor in French. After college she took some time off and traveled to Europe. She ended up on the Island of Jersey where she met Marc.
Not long after meeting Marc, she switched visas to stay on the island. She began a career in International Finance as an administrator for large real estate funds across the globe.
Marc was born and raised on the island and worked at a division of one of the worlds largest insurance brokerages, originally tending to the insurance needs of some of the worlds wealthiest family trusts. A nerd at heart, the insurance was not enough of a challenge and after 9 years, he transitioned to become Head of Business Intelligence for the company.
In March of 2019 Marc's father lost his battle with cancer and passed away. At the same time it was becoming clear that Avery Claire's father no longer had the physical means to continue running the family farm and was considering selling it.
It was then that we made the decision that we would up-root from Jersey and move back to Georgia to take over - and hopefully save - the family farm.
The Original Business
When we first moved back to the farm, we adopted the farms existing business model – raising our calf crop to weaning, and then selling the entire crop at auction once a year. This is know in the industry as a cow-calf operation.
The herd had been dwindled down to about 80 head, and in our first 18 months we built the herd back to 300 strong. To set ourselves up for success, we sourced the best cattle and bulls from all over the east cost and focused on quality Black Angus genetics - it was, and still is, our best and most important investment in the farm so far.
Unfortunately we moved back to Georgia right before the economy shut down for Covid-19. The pandemic created a huge problem for cattle producers and consumers alike. Although consumers were paying more for beef at the grocery store (when the shelves weren't bare!), producers such as ourselves were getting historically low prices for our cattle.
The large meat processing plants in the mid-west were getting hit hard by Covid-19 and had to either close down for extended periods, or had a severely limited workforce. This created a bottleneck in the industry. Producers had plenty of cattle to sell, but processors did not have the capacity to process them, leading to lower prices for cattle producers and higher prices and less availability for consumers.
We knew early on we had to find a way to control our own prices and not be at the mercy of the commodity market if we wanted the farm to survive.
The Switch to Retail
Initially, we planned to sell locally, either at local farmers markets or simply by word of mouth and people picking up meat directly from the farm, but we weren't sure how much product we would be able to sell this way.
Having followed Five Marys (@fivemarysfarms) on Instagram for a while, we decided to jump in and purchase their online course so we could learn how to ship our meat nationwide. We eventually had the opportunity in June 2022 to travel to Fort Jones, California and learn directly from Mary and Brian themselves.
They taught us all about their shipping logistics, the processes involved, where to get the best shipping rates, what boxes and liners to use, how to get customers to return boxes and how to keep up with your inventory.
They also gave us a tour or their restaurant, retail store and their newly built cut and wrap facility where they butcher and pack all of their own meat.

It gave us the confidence we needed to decide that this is how we wanted to sell our meat – directly to customers, anywhere in the country!