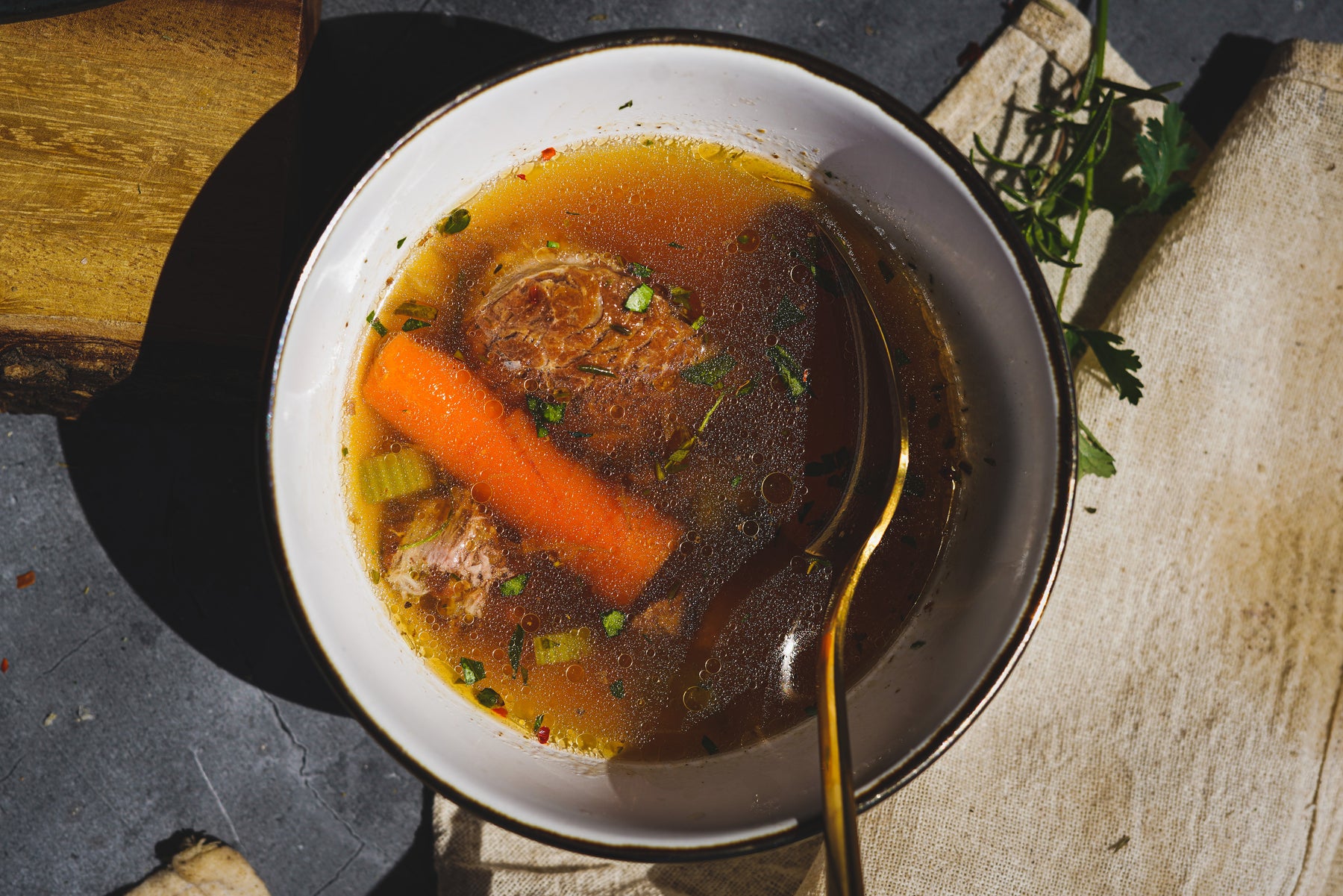 Osso Buco Beef Soup
If you are a fan of clear broth soups this recipe is for you! The marrow from the Osso Buco adds the perfect amount of richness creating a beautiful silky smooth beef broth!
Click Here to buy our Osso Buco Beef Soup Recipe Box (box includes several of our Occo Buco beef shanks, 1 jar of our seasoning, a recipe card and some other great cuts!) Also available in a Family Size. 
Ingredients:
3 lbs of our Osso Buco (cross cut beef shank)
1-2 tablespoons of Lily Hill Farm Seasoning
2-4 carrots
3 celery stalks
1 medium onion 
Pat dry your Osso Buco and generously sprinkle both sides with LHF Seasoning.
Put your Instant Pot on the sauté setting (high). Brown both sides of your Osso Buco (depending on the size of your shanks you may want to brown the shanks individually). Chop your carrots and celery into approximately 3 inch long sections. Quarter your onion. Add carrots, celery and onion to your Instant Pot along with your brown beef shanks. Cover with water (usually takes around 4 cups). 
Pressure cook on high for 1 hour.
Remove and trim beef chucks from the broth and place in large pot (saving the broth). Remove carrots and add to your pot. Using a fine mess strainer, strain broth left in your Instant Pot and pour over your beef and carrots. 
Add this point you can also add any additional vegetables of your choice - I like to keep it simple just with beef and carrots. Place pot on stove and simmer on low. Add additional seasoning, salt and/or pepper to taste.
Chop up some fresh herbs of your choice. I like to use to rosemary, thyme and parsley. Simmer additional 3-5 minutes and then serve and enjoy!