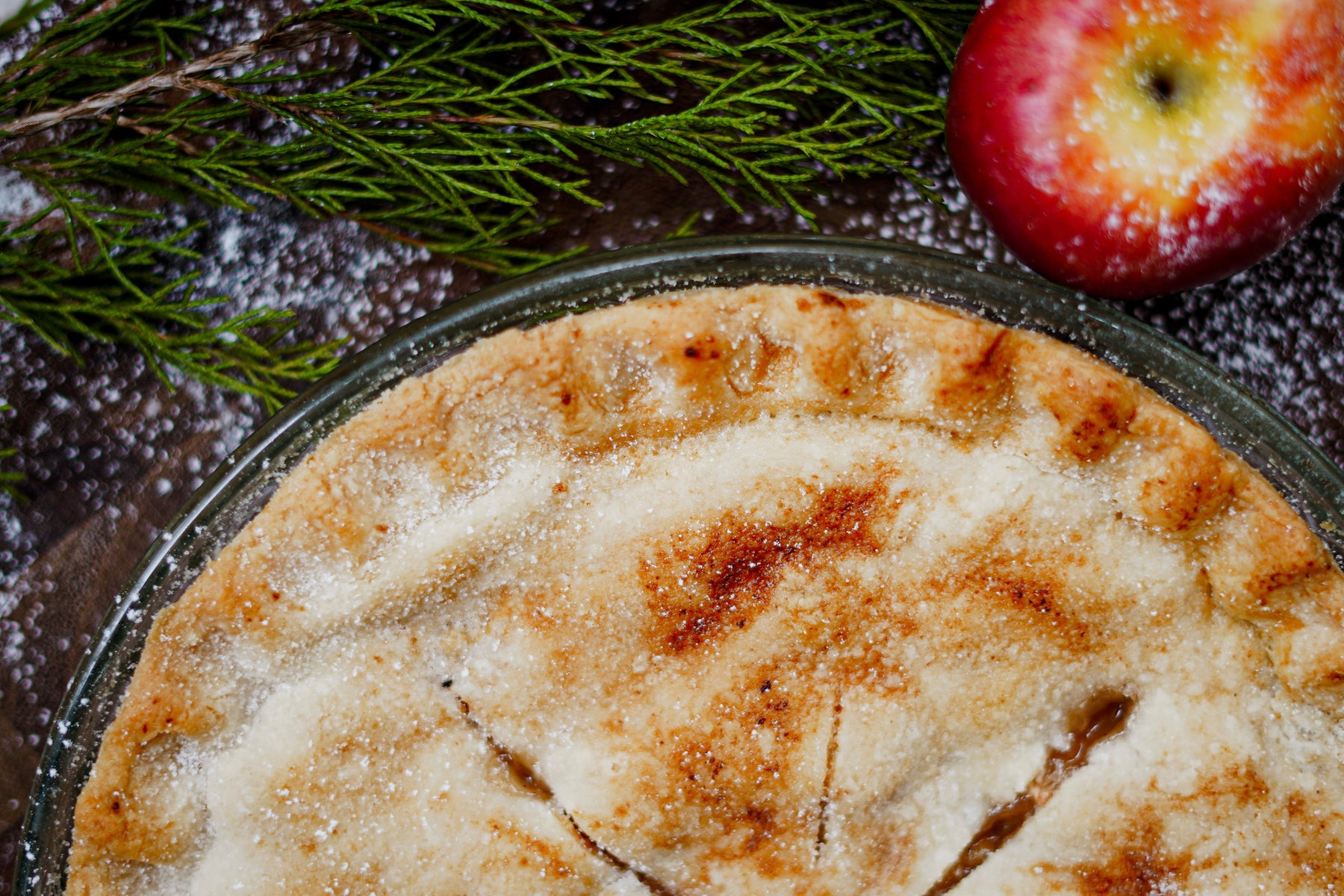 Apple Pie
Once you try this you will never touch a store bought pie again! I use triple render beef tallow from our cattle's suet (leaf fat) in the crust but this can be substituted with shortening. The crust recipe also fantastic for savory dishes and meat pies!
Preheat oven to 375 degrees Fahrenheit 
STEP 1 - Crust
Ingredients:
1 and 1/2 cups flour 
1/2 teaspoons salt 
9 tablespoons of triple render beef tallow OR 10 tablespoons of shortening (crisco) 
8-10 tablespoons of ice water 
Cut/Mix tallow/shortening into flour until the texture of rice, add salt, add water stir with fork until formals a ball - handle as little as possible. Split into half. Roll our pastry on wax paper and place in the refrigerator while preparing applying filling. 
STEP 2 - Filling & Assembly 
Ingredients:
6 cups of thinly sliced, peeled apples (about 2lbs) 
1 teaspoon of apple cider vinegar 
1 cup of sugar
2 tablespoons of all-purpose flour 
1/2 to 1 teaspoons of ground cinnamon 
Dash of nutmeg
Combine flour, cinnamon and nutmeg. Add apple cider vinegar to sliced apples. Add sugar to sliced apples and flour mixture; toss and coat apples.
Fill pastry dish with crust, then add apple mixture. Dot with butter. Adjust top crust. Seal & flute edges. Cover edges with foil. Bake a 375 degrees Fahrenheit for 20 min. Remove foil, brush with butter and sprinkle with sugar. Bake for additional 25-40 minutes or until crust is golden brown. 
*I recommend using triple rendered tallow for fruit pies. Crust made with tallow will be slightly denser and pies will be drier.